Strap long | Reinforced padded Strap for Guitar and Bass. 126-143cm, 8.5 cm wide. back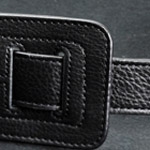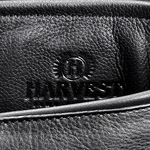 Top grade Nappa
Art.No.: 30 002/2 - 0017 / Black
This strap for heavy instruments is made out of super soft aniline garment leather.
It comes with the classic length adjustment and is just in solid black.


The
long
length is adjustable from
126 cm to 143 cm
. The length is measured from hole to hole with the braided belt at its short position.
This length is preferred by musicians who like to play their instrument low.  Also for guitars on which the strap-pin is  in the middle ( at the bottom ).
The strap is made out of two layer of full grain leather, together these are about 3.2 mm to 3.6 mm thick.
Full grain leather is very strong and durable.
A strap for a lifetime.
The strap's width is 8.5 cm. It's the perfect width for holding the bass comfortably over a longer period of time.

Your bass feels much lighter with this strap.

The strap comes with a 6 mm hole and a 10 mm slit for the classic instrument pin.