Endorsers
Startseite
Nicole Badila - voice&bass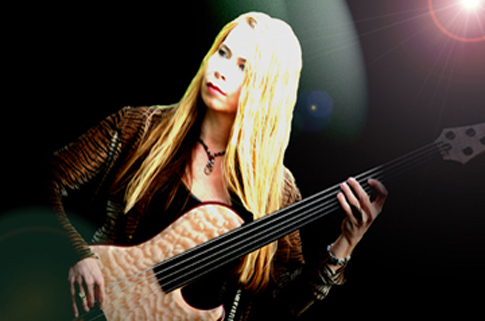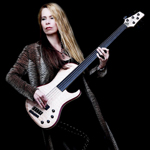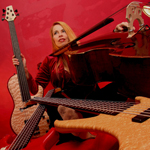 Nicole Badila grew up in a music loving family. Her grandmother was a gifted piano player and her mother inherited this talent, she used to sing and play guitar. The members of the household were constantly playing beautiful music from everywhere, from Brazilian, Indian and African music, Soul, R&B, Jazz to Classical music etc. This was the foundation of Nicole's passion for music.
At a very young age she gathered first experiences on stage with acoustic and later electric guitar. Since she was 10 years old she played concerts with school- and local bands. Absolutely fascinated by legendary genius JACO PASTORIUS she picked up the electric bass with 14 years and it turned out to be a lifetime love. After practicing the instrument many hours a day by playing along with her favorite records etc. she joined local Soul, Funk, R&B, Rock and Fusion bands.

Later on she took classes with Kai Eckhardt, Reggie Workman, Lonnie Plaxico and Decebal Badila. Further influences on bass are Paul Jackson, Louis Johnson, Larry Graham, Anthony Jackson, Abe Laboriel, Victor Bailey, Stanley Clarke, Marcus Miller, John Patitucci, Arthur Maia, Nico Assumpção, Carlos Del Puerto, Etienne Mbappe, Guy Nsangué, Michel Alibou, Gary Willis, Niels-Henning Ørsted Pedersen, John Clayton, Eddie Gomez, Paul Chambers, Scott LaFaro, Ron Carter, Ray Brown and many more.

In 1995 Nicole Badila graduated from a Jazz study in Frankfurt/M.; as well she received a scholarship from Berklee College of Music, Boston/USA and did some study trips to USA and Brazil.
She played numerous concerts and festivals and did studio productions with many wonderful and amazing artists (national & international) - from Jazz, Latin, Fusion, Funk, Pop, Rock, Soul, Worldmusic, Musicals, Cabaret etc.

Nicole Badila is endorsed by Human Base instruments, Glockenklang bass equipment (which she presented since 1996 on the International Music Fair Frankfurt) and HARVEST Bass Bags. As well she exclusively endorses Elixir strings & cables.

She plays 4-, 5- and 6-string fretted & fretless basses, electric upright & double bass. She is member of various bands (Jazz, Fusion, Brasiljazz, Worldmusic, Pop, Funk), freelance artist, studio musician as well as an bass clinician, band coach and jury member of music competitions like "Jugend musiziert".

In Germany's leading bass magazine Bass Professor she is featured in an interview (3/2008).

In 2008 she gave a Brasil Bass clinic at the Bass Day Europe.

In 2009 a Latin Bass clinic and concert with the Duo "voice&bass" followed at the Bass Day Feel The Bass (headliner Victor Wooten).
http://www.myspace.com/nicolebadila