Bass Bags | Buffalo nubuck leather with hand finished vintage look back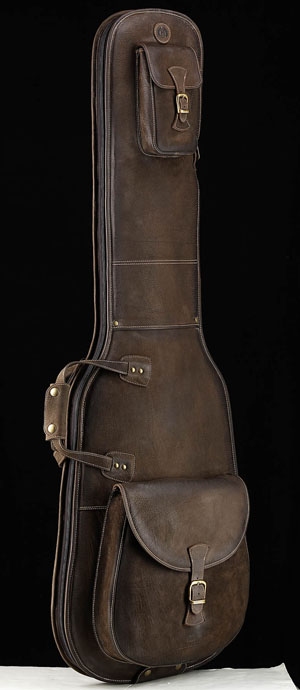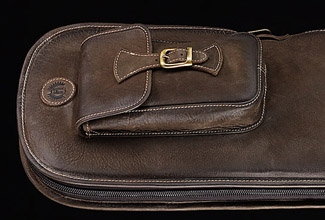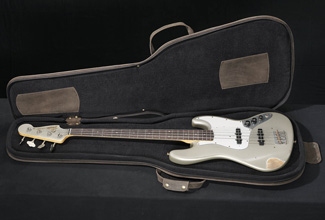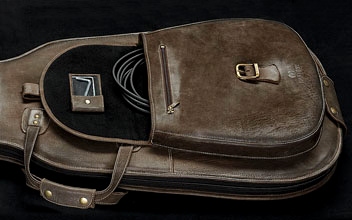 Buffalo Nubuck Vintage Brown
Art.No.: 10 001 0063 / Brown
size specifications
Made out of full grained buffalo nubuck skin with a hand waxed antique look. Not to forget are the solid bronze metal fittings – also in the retro look!

A handcrafted masterpiece!


The wide No. 10 Nylon zipper completely opens the bag. This way you can lay your instrument without a problem into your bag. By closing the bag your bass is held inside like a sandwich. No matter what size of bass you have - no more moving or shifting!
Underneath the zipper (belly) is a foam flap positioned to protect the instrument from scratches. For extra protection, there are two perfectly positioned inner case patches.

At the top you will find a small pocket for storing guitar tuners and other small accessories.
At the bottom is a large pocket for reading material and an extra compartment for replacement parts.
Inside is a small see-through pocket especially for wrenches and picks.
The bag's handle- and shoulder-straps are both attached with not just one but two steel-fasteners; doubled up for a more comfortable wearing and a better hold!
For added support, we have sewn in an extra protective layer in the bottom of the bag.
Enough room also for six strings and big basses.
This bag has two well balanced and detachable shoulder straps and a D-ring to hang the bag.
TECHNICAL INFORMATION:

Inner Structure

The bag is composed of a 5-layer sandwich construction.

layer: outer, 100% full grained buffalo nubuck skin.
layer: 3 mm of soft thick foam, that provides a shock absorbing effect.
layer: 2 mm of thick hardened plastic floor plate, which supports the bag and protects the instrument.
layer: 20 mm of inner padding of foam, which huddles against the bass body and builds a protective shell for the instrument.
layer: antistatic hardwearing polyamide and two specially positioned leather patches protecting the bridge, strings and instrument hardware.