Guitar Bag for Les Paul Type (1)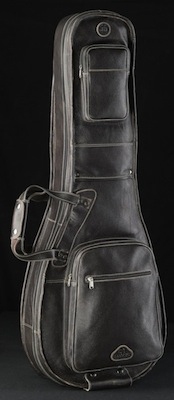 Cow Antique / Art.No.: 23 001 LS 0066 / Dark Brown
Guitar bag calf leather in retro look
Description:
Designed for Les Paul's or similar guitar models
- made out of hand antique finished calfskin.
Produced from full grain leather with a worn, used finish.
The vintage look is also featured by the nice
looking and very durable antique brass fittings.
Strong nylon zipper opens the bag completely.
A handcrafted masterpiece!