Bass Bags For Two | Polyamide ( nylon ) with buffalo leather trim back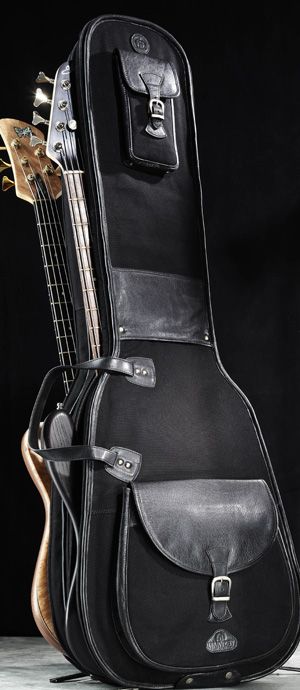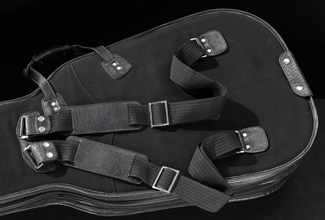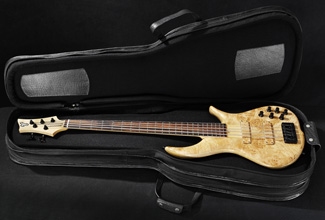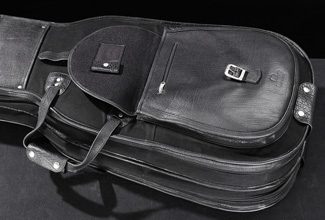 Polyamid (Nylon) canvas with buffalo leather trim
Art.No.: 11 001 4002 / Black
size specifications
Made out of strong durable polyamide (nylon) with buffalo leather trim in classical black.

A handcrafted  masterpiece with reduced weight.


Underneath the zipper (belly) is a foam flap positioned to protect the instrument from scratches. Also, for extra protection, there are two perfectly positioned inner case patches.
At the top you will find a small pocket for storing/holding your guitar tuner and other small accessories.
At the bottom is a large pocket for reading material and an extra compartment for replacement parts.
Inside is a small see-through pocket especially for wrenches and picks.
The bag's handle- and shoulder-straps are both attached with not just one but two steel-fasteners; doubled up for more comfortable wearing and a better hold!
For added support, we have sewn in an extra protective layer in the bottom of the bag.
Enough room for a 6-strings and big basses.
This bag has two well balanced shoulder straps.

TECHNICAL INFORMATION:


Inner structure

The bag is composed of a 5-layer sandwich construction.

layer: outer, durable polyamide (nylon) canvas and buffalo leather.
layer: 3 mm of soft thick foam, provides a shock absorber affect.
layer: 2 mm of thick hardened plastic floor plate, which acts to support the bag and protect the instrument.
layer: 20 mm inner padding of foam, which huddles against the bass body and builds a protective shell for the instrument.
layer: antistatic hardwearing polyamide and two specially positioned leather patches protecting the bridge, strings and instrument hardware.
These products may also interest you: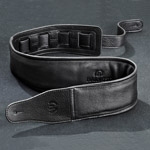 Reinforced padded strap for Guitar and Bass. 8.5cm wide.
Art.No.: 30 002 0017 / Black